Diaspora Matters ran a two day workshop just outside Bucharest for RePatriot, an organisation dedicated to connecting the Romanian Diaspora to their homeland. There are over 4 million Romanians living outside Romania (population 38 million). Through conferences and an online platform RePatriot have developed an international network of over 7000 entrepreneurs and business people. The workshop covered Diaspora Engagement, Philanthropy and Fundraising and Networking and was attended by the leadership of RePatriot.
This event was an opportunity for Diaspora Matters to focus on the key elements of developing an area of interest that has soared over the last decade with over 100 countries now trying to figure out how to take advantage of what was once the preserve of only a few countries. Also it was an opportunity to share best practice from around the world and particularly what Ireland has been doing in this space as well as Israel, India and China. With former US President Barack Obama soon to attend the Conference of the Indonesian Diaspora in Jakarta it was a timely reminder of how topical this topic has become.
The key points that Diaspora Matters focussed on were around the theme of Diaspora Capital, something every country possesses to varying degrees. Diaspora Matters defines Diaspora Capital as ' the resources available to a country, region, city, location or organisation and is made up of people, networks, finance, ideas, attitudes and concerns people have for their place of origin, ancestry and affinity'. Diaspora Capital, then, is made up of three flows – people, knowledge and finance.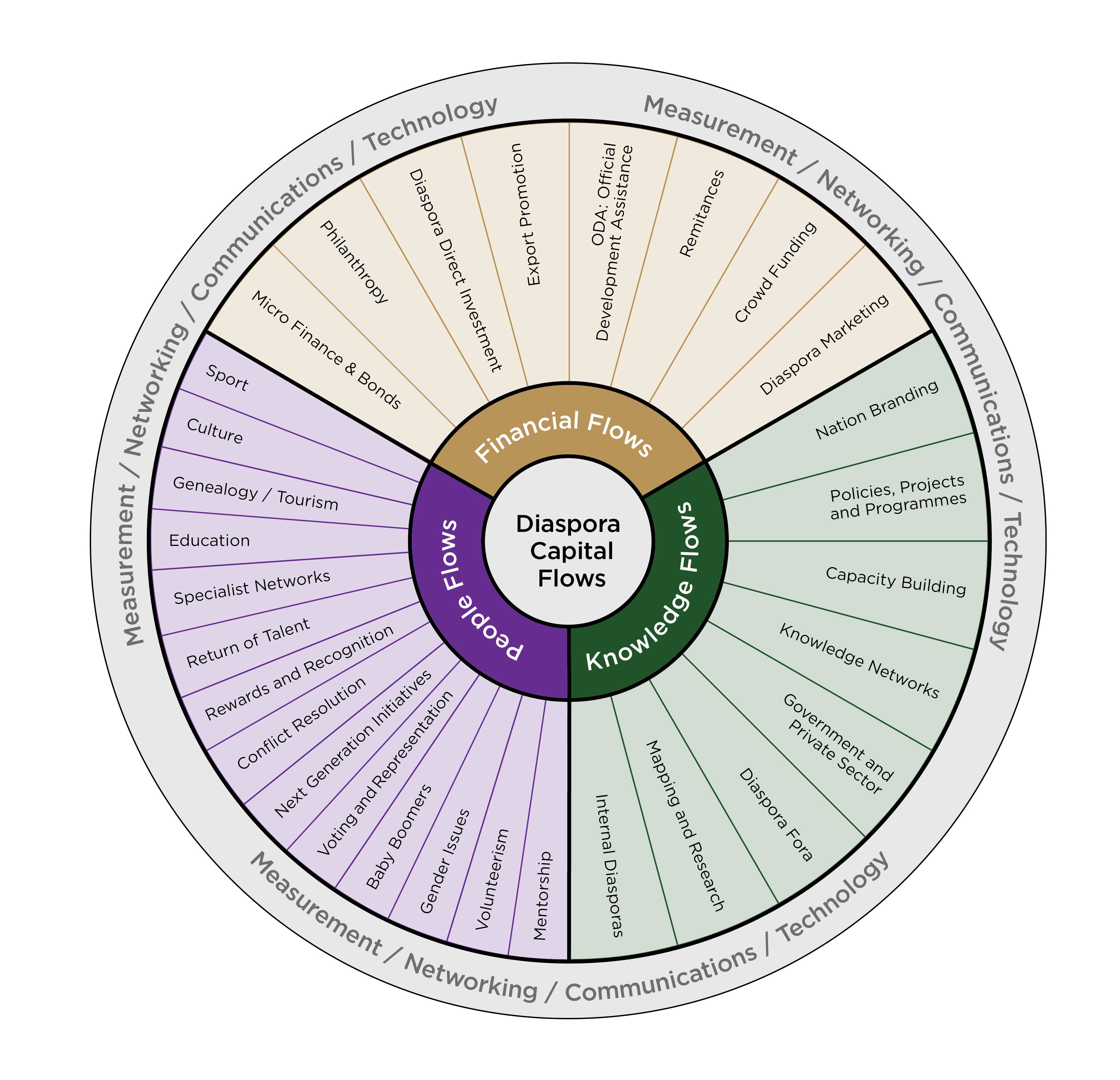 Key Themes from the Workshop:
Technology and communications are changing the way home and host countries and Diasporas are interacting. In the old days your geography dictated your identity. Now people can be 'here and there' and are living 'hyphenated' transnational lives.
What were once 'lost actors' can now become 'national assets'. Brain drain can become brain gain and brain exchange. The countries that have lost the most to emigration are in a position to benefit the most from Diaspora Engagement
There is a difference between the nation and the state with the latter being determined by lines on a map and the former being a global notion. India is a good example of a country who, relatively recently, have developed a notion of 'Global Indianess'. They achieved this through their Diaspora.
Key to success is knowing the Diaspora (who are they, where are they and what are they doing) and listening to them
A very small number of people in the Diaspora can have a huge impact on their home country
Join CASE which stand for 'copy and steal everything' – i.e. In what is essentially a non competitive industry countries should share information and initiatives.
Build initiatives for the next generation and for baby boomers and watch out for the coming intergenerational transfer of wealth
Adopt the US University Alumni model of engagement which is all about involving large numbers of people at modest levels of engagedness and a very small number who can make a very major contribution.
Figure out the role of government either as implementer or faciliatator
Accept that there is no 'one size fits all' approach to the Diaspora and Diasporas are often distant, diffuse, diverse and disputatious.
Diasporas are about place which may not be the whole country
Recognise and reward exceptional behaviour in the Diaspora
Get high flyers in the home and host countries together
Diaspora Direct Investment (DDI) is a subset of Foreign Direct Investment (FDI)
Identify 'Tipping Agents' wh can 'nudge' a deal for the home country
Chase the 'triple win' for the Diaspora member, the Home and Host country
See Philanthropy as the portal through which Diaspora Engagement can start and develop into other areas
'Diasporise' and use the media to promote and tell success stories
Build 'networking skills' and develop the capacity of Diaspora organisations
Train foreign affairs and consular staff to be experts in this area
Support the vulnerable in the Diaspora and seek out the successful
Look for quality, talented and inspiring staff to promote the concept
Don't just think what the Diaspora can do for the home country but also what the home country can do for the Diaspora
Build trust
Identify business 'rock stars' and involve/engage them
Watch out for the 'Intergenerational Transfer of Wealth' and potential for home countries to benefit from this.